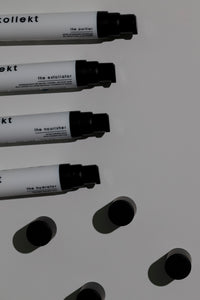 Description
What is it?

Not ready for a full commitment, we get it!

That's why we created the kollektors 10-day starter set, not only are they a great way to test how much your skin will love itself, but they are also ideal for travel.

Our products are simple and straightforward to use, yet highly effective at nourishing and rejuvenating your skin. made with nourishing, biocompatible ingredients, they are suitable for all skin types and clinically tested to be effective.
what it does
the purifier cleanser gently removes impurities and excess oil, leaving your skin feeling fresh and clean. helps reduce the appearance of blemishes and acne.


the exfoliator exfoliating serum helps to smooth and refine the texture of your skin, giving it a more youthful and radiant appearance. fights against signs of aging, and uneven skin tone


the nourisher oil-free nourishing serum helps to deeply moisturize and nourish your skin, reduce the appearance of fine lines and wrinkles, and prepare it for your moisturizer.



the hydrator lightweight hydrating moisturizer provides lasting hydration without feeling heavy or greasy. firms and tightens the skin, improving overall texture and elasticity.