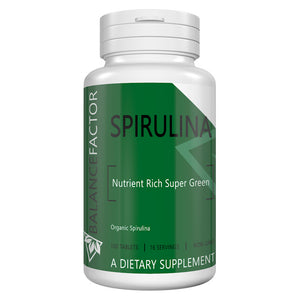 Description
What is it?
Spirulina is one of the oldest living organisms on earth. 

Spirulina is a blue-green microalgae that contains naturally occurring nutrients such as protein, phycocyanin, chlorophyll and carotenoids, plus other nutrients such as vitamins, minerals and GLA (gamma-linolenic acid). It grows in warm freshwater and saltwater, deriving its name from a unique spiral shape. It's also a nutrient-dense vegan protein and has been considered a "superfood" for centuries. The Aztecs were the first to discover spirulina's power and used it to boost endurance levels and treat various ailments
Spirulina promotes natural physical energy and helps to accelerate metabolism — so your body can turn nutrients into energy quicker. The vitamin B1 (thiamin), contained in spirulina is also helpful for maintaining energy and helps to fight off fatigue.

Detoxification: 
Spirulina has an alkalizing effect on the body that boost liver function, which is essential to any detox. As we mentioned it contains chlorophyll, which helps remove heavy metals, pollutants, and other toxins from the blood. This powerful antioxidant and anti-inflammatory helps boost liver function which is essential for detoxification and good overall health.
Promotes natural physical energy *
Provides oxygen to the cells of the body *
Helps with detoxification *
Helps to boost the immune system *
Vegetarian/Vegan *
Certified Organic by QAI *
*
These statements have not been evaluated by the Food and Drug Administration. This product is not intended to diagnose, treat, cure or prevent any disease.